The 2 Coolest Pools for your Pups!
           Check out our Large dog pool and our Small dog pool!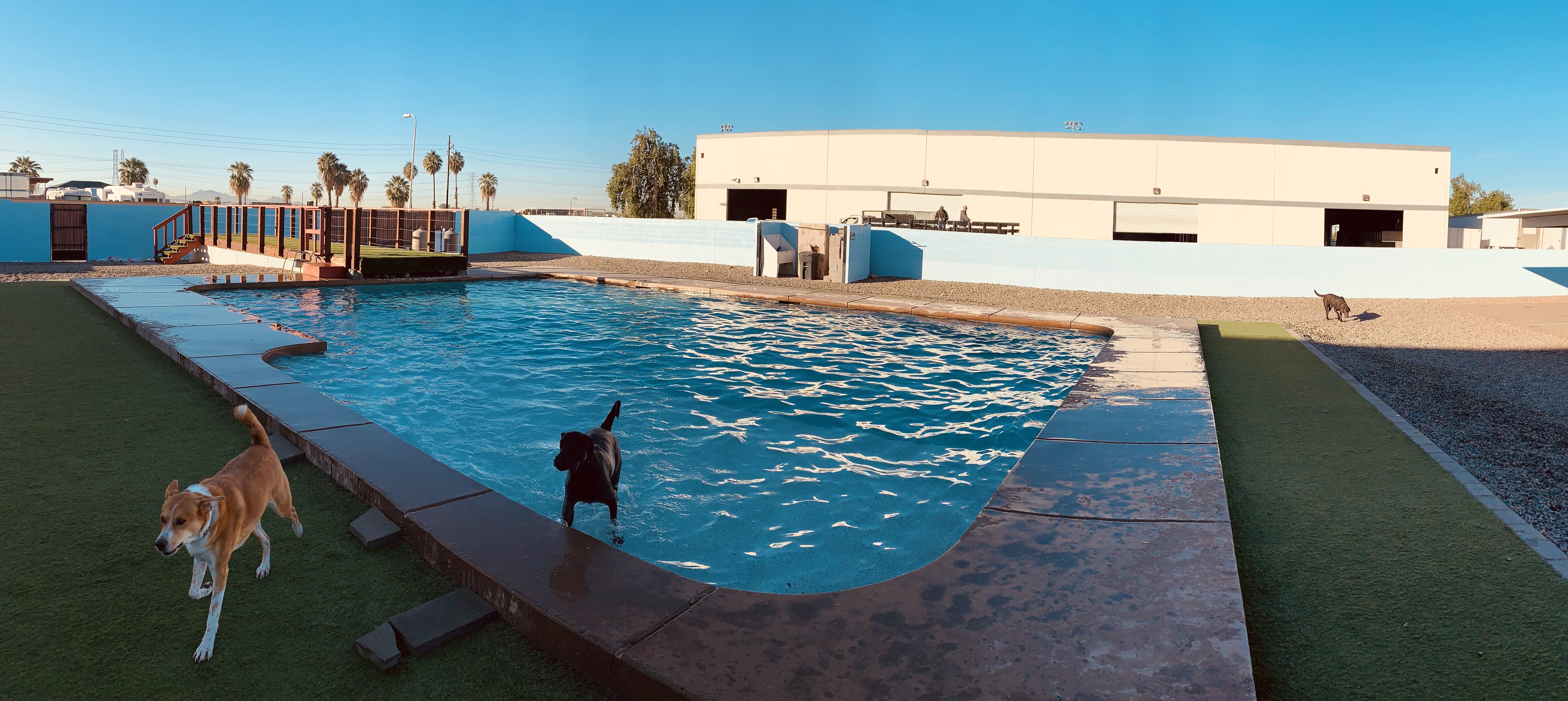 Dock Rental
Do you have a dog that loves to jump off the side of the pool? Or are you part of some of the awesome Dock Jumping Clubs in the area? We have a custom dock built here at The Furshire for those pets that need a place to train and practice with their owners. We are able to provide dock rental by appointment only, please give us a call with any questions or to reserver your appointment.
(This is just a reminder that our pool is outside and not heated)
Rental Hours
Monday-Saturday: 5:30pm – 9:30pm
Sunday: 7am – 1pm
& 4:30pm – 9:30pm
Reservation Required
Rental Procedure
Minimum of a 1 hour rental
Call the office to reserve your pool time and Full Payments are to be paid at the time of your booking
Dog owners are NOT ALLOWED to be in the pool, only the trainer
Trainers must check in/out. Please arrive 10 minutes prior to your scheduled start time to get the walkie talkie, and set up. The Furshire staff will lock/unlock the back pool gate.
There might be people using the pool prior to you, so please do not go into the pool yard until your scheduled time.
No one is allowed into the dog resort! If bathroom is needed please use the walkie talkie and a staff member will assist you through the resort. NO POOL dogs are allowed inside the resort
A Furshire staff member will give you a 10 minute warning that time is about to expire.
A pooper scooper, poo bucket and water bowls will be provided for your use. Please make sure all poop is picked up after each pet.
At the end of your rented time we ask you please socialize outside of the gate. Also be courteous since another club or client might be renting the pool behind you and will need to park.
Rental Price
$75 per Hour
Maximum of 6 Dogs per Hour
(Must Be a Dock Rental Group)
$18 for 15 Minutes
Extra Club Rental
Individuals not part of a club may only bring 1 dog per 15 minutes
Pool Time
Every pup visiting with us gets a chance to swim in our awesome in-ground pool! We run pool time for daycare and boarding kiddos 7 days a week, 365 days a year. If the pool is ever unavailable we will do our best to make you aware. Our pool is not heated, but during the summer months our staff will join the dogs in the water for play time, exercise and therapy.
Here at The Furshire we love getting the chance to teach your pets how to swim and get them feeling comfortable in a new setting! It's also a great idea for younger puppies to know their way around water, especially with all of the backyard pools we have here in Arizona! Check out the vaccinations tab for more information on what your fur baby needs to come and visit us!
Therapy
Sometimes our fur babies need a little extra help, and pool therapy might be the answer! We work with you and your vet to customize a recovery plan for your dog after injury, surgery, broken backs or other challenges. Our staff with work one on one with your pet in the pool to aid in whatever way that we can. We will do our best to work with you and your pup for as long as you need us!
Small Dog outdoor oasis, pool and splash pad
We are so excited to announce that our small dog pool and splash park is underway. We hope to have it completed by June 2021.
This area is dedicated to all of our little dogs in daycare, playgroup and boarding. It is part of our services and there is no extra charge or limited time of play. They will have options for soaking up the warm sun light, running through the grass, playing on the equipment, swimming to their hearts content or just hanging on the pool ledge. Every aspect was designed just for our little dogs. This outdoor oasis has sunscreens which will protect their paws from the summer sunrays. PICTURES will soon be posted STAY TUNED!!