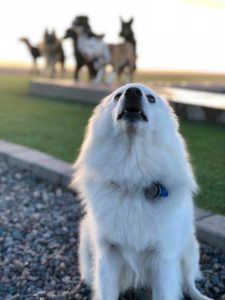 Tired of worrying about what your dogs are doing while you're away from home? Ever feel guilty about leaving them home alone all day? Are you tired of having to run home right after work to let them go potty or are you just simply too tired to play with them after a long day of work?
Well, here's the answer… the furshire playgroup! Your fur babies will enjoy a full day of group interaction, swimming, and personal time with our fabulous staff!
Your dog will be introduced to the Playgroup that best meets his or her social needs. Our attentive staff will help your dog learn the skills necessary to play nicely in a group setting.
If your dog is known to show aggression towards other animals they are still more than welcome to join our furshire Family! Please refer to our Daycare Page for more information.
Hours
Monday-Friday: 5:30am-7:00pm and
Saturday and Sunday from 7:00am-7:00pm
Playgroup is closed a few days before, on and after Thanksgiving day, Christmas day, New Years day
DOGS NOT PICKED UP BY 7PM MUST STAY OVERNIGHT AND BE CHARGE FOR A BOARDING DAY
Scheduling
We can't stress enough the importance of reservations.
Staffing is based off of need.  While we do understand occasionally you won't know you need us until last minute, it is difficult to be effective without at least a
24 hour notice
. We want to ensure we provide you and your dog(s) with the one-on-one attention that you deserve.