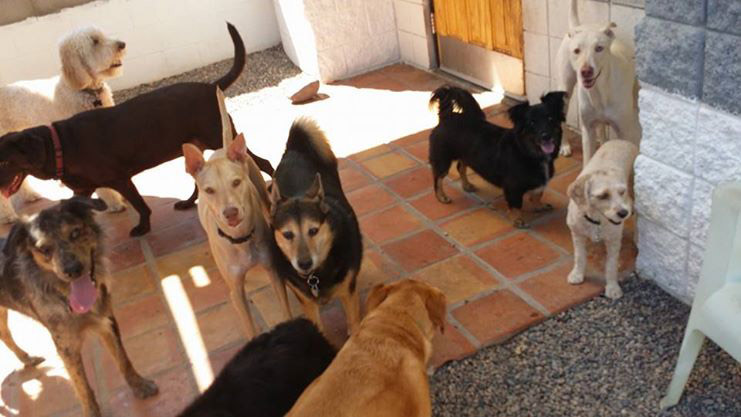 Tired of worrying what your dog(s) are doing while you're away from the house? Ever feel guilty about leaving them home alone all day? Are you tired of having to run home right after work to let them go potty or are you just simply too tired to play with them after a long day at work?
-OR- Do you just want them to get out of the house and play awhile?
Well here's the answer… The Furshire Playgroup! Your dog(s) will enjoy a full day of group interaction. They will engage in activities ranging from inside ball and tug of war, to playing chase and sunning themselves after a nice swim in one of our pools. As their energy fades away they end up in snuggle time, where they get to hang out, get pampered with belly rubs and unwind watching TV.
Oh what a life to have! While we are hard at work! It's just not fair.
Overweight dogs can slim down
Dogs learn how to be social with other dogs and humans
Eases dog's separation anxiety and decreases destructive behaviors
It gives them something fun to do all day
Your pet will be introduced to a Playgroup that best meets his or her social needs. Our attentive staff will help your pet learn the skills necessary to play nicely in a group setting.
Playgroup Hours
Mon-Friday 5:30am-7:00 and then Saturday and Sunday from 7:00am-7:00pm.
We can accommodate flexible hours and offer pick up and delivery services.
ADDITIONAL DOG DISCOUNT-We offer a discounted rate of 50% off the same package for each additional dog. Additional dog discount applies to dogs with the same owner, staying over the same time period.
Prices subject to change without notice. Our space is limited, once you have paid for your days you have purchased them and they are yours. We DO NOT give refunds or credit for early pick-ups.
Vaccination Requirements
Dogs: Two Bordetella shots, Rabies, and DHLPP
Cats: FVRCP (Upper Respiratory Distemper), Rabies
Scheduling
With summer months coming, doggie daycare tends to become busier, as does boarding. A lot of new dogs (and personalities) will be starting playtime.
We can't stress enough the importance of reservations
.  Staffing is based of off need.  While we do understand occasionally you won't know you need us until last minute, generally for staff safety and obviously your four legged family members' safety, it is hard to be effective without advance notice. Whether for tours, daycare, or boarding, we want to ensure we provide you and your pet with the one on one attention you deserve.
Please contact us to schedule today
!
Thanks for your cooperation, and for allowing us to love your fur children!