These are the following requirements each owner must provide in order to board your cat or dog at our facility.
Vaccinations For Dogs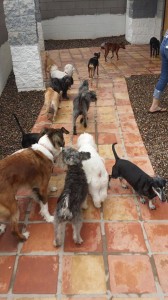 Rabies (1-3 years)
Dhpp (1-3 years)
Bordetella (every 6 months or 1 year)
Please have you or your vet email or fax vaccination records to 623-412-3337, info@thefurshire.com
Food Requirements
You are responsible for bringing your pet's food.
Please pack their food in meal size baggies or a plastic container. (ziploc bags are fine)
We will freeze, refrigerate and heat your pet(s) meals if needed at no additional charge.
Please bring 2-3 treats per day (not required)
Please bring your pets measuring deceives for food. (no glass)
Flee and Tick
Every dog and will receive a flea & Tick treatment. We use Frontline Plus $15 (Waterproof) or Bio spot $6. They must have one every time them come if it has been longer than 30 days. You also may bring your own or proof if your dog is currently on a continuous program.
Every dog must be free and clear of ticks, if even one tick is found on your pet, we will immediately flee and tick dip them at your charge. This price ranges from $25-65 for this service.
Payments
Full payment is due at the time of drop off for all services to be rendered.  We accept Visa, Mastercard, American Express and Discover. We are now taking cash starting July 1, 2016.
Medications
$4 charge per day per dog
must come in original bottles
insulin must be kept in cold container. ( one needle per shot)
Drop Off & Pick Up
Pick up for boarding Monday through Sunday is by 11am. If you cannot pick up by this time you can extend by purchasing a  $28 daycare day to extend you until 7:00pm that day.  We ask that you stick to your drop off and pick up times, and keep them within our lobby hours.
Injury/Illness
Owner is trained in Pet First Aid/CPR and has received Pet Care Services Association certification. If your pet has to be taken to a vet/emergency care due to any reason while in our care you take full financial responsibility for any and all expenses.