Janene Ferraris - Owner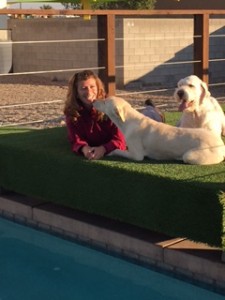 The Furshire was formed in 1997 and incorporated in 2005. I could not find any kennels, friends or neighbors to give my animals the level of care I felt they deserved while I went away. Guilt would stricken me every time. Thinking about their sad faces looking out of their locked up cages. Ugggg!
I searched high and low for a place that had an owner and staff to care enough about "my kids". I could not find anything that met my expectations. So I decided to take matters into my own hands and opened The Furshire.
When you leave your pet with us – it's the behind the scene care you do not see.
1) ATTENTION The snuggling, hugging, one-on-one time your pet receives is crazy awesome and best of all you do not have to pay extra.
2) FREEDOM Each day your pets get to run free inside and outside until they want to stop and rest. They are free to play instead of being locked in a room all day long.
3) FUN! For the water loving dogs they get to swim in the big pool or mess around in the splash park. Or for those who do not fancy the water, they can run and play on our 3/4 acre.
I have resided in Arizona for 23 years.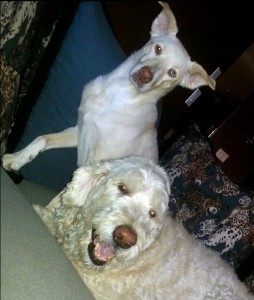 I have no two legged children of my own but did many years as a foster mom. My pets are my horse Romeo, goat Banjo, Golden Doodle Apollo, and mix dog Katie.
I play fiddle and hockey for fun.
My studies include:
Dog behavior
Pet first aid and CPR Tech
Certified with pet care services association
Associate degrees in Human Resources and Child Development
CDA certification
Bachelor of Science in Social Work
Master degree in Organizational Management
Nikki
Hi, I am Nikki, the resort manager at the Furshire. I have been loving on all the Furshire dogs and cats here and have been managing this facility for the past 5 1/2 years.
I've been married for 14 years to this wonderful man. I have two great children and 3- 4 legged children. I love playing and getting to know all tour clients cats & pups personalities at the Furshire.
Amber
My name is Amber. I'm the groomer at the Furshire since 2013. I was trained by some of the best show groomers in the country and have been grooming dogs of all breeds for over 35 years. I love when my clients are finished being groomed; how they smile at me as they look back over their dogs.  The Furshire has given me a whole new outlook on my interaction with the dogs. The biggest difference is that I have a playing relationship with the dogs and not just a grooming relationship. The trust level that they have with me when I have them on the grooming table is like no other. They are calm and comfortable instead of being scared. I get to swim and play with the dogs at any time, and it brightens my day. My boss, Janene, and co-worker's always make it special to be here.
I'm married to a wonderful man of 15 years and have two cats and three wonderful pups of my own who enjoy coming to the Furshire for playgroup as much as I do!!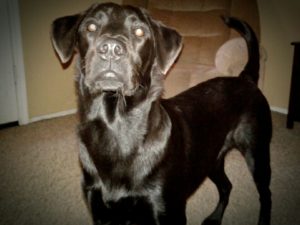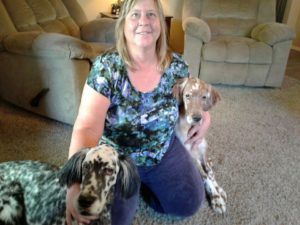 Daniel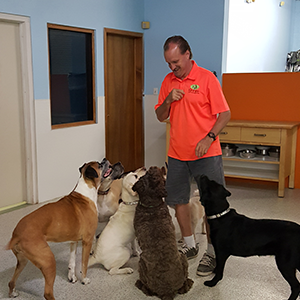 I am Daniel Kutach, I am 57 years old. I was born in Albuquerque, New Mexico in 1957. I moved to Phoenix, Arizona when I was one year old. Been here ever since. I've been around animals my whole life. I have three dogs of my own. A lab mix, a Papillon and a Saint Bernard. I have worked 11+ years with dogs and cats. I have been with the furshire for almost 8 months.
Dayja-Vu Myers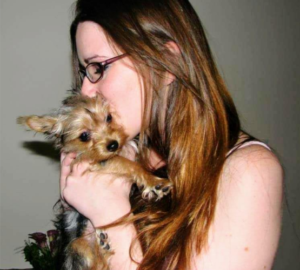 I am Dayja-Vu Myers and I have always loved and appreciated animals. Working with them is so rewarding and fulfilling- I love my job! I have many pets of my own four dogs, two ferrets, bearded dragon, and two parakeets. I am currently in school to become a mortician, and I eventually want a career as a forensic pathologist. I am the oldest of three; I have a younger sister and brother they are my best friends. I also have the most amazing parents anyone could ask for; they have had a huge influence on me they are animal lovers as well.
Kayla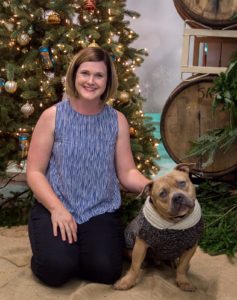 Hey, Y'all! I am Kayla. I recently moved home to Phoenix after living two years in the beautiful city of Savannah. It was there in Savannah that I started working with both dogs and cats. I grew up with dogs and cats my whole life, however, upon moving to Savannah I  decided to start volunteering with a local rescue and start fostering dogs and cats. I was thrown into a foster situation and LOVED it. I learned so much about dogs and myself through fostering it just took off from there. (I even got my fur baby through them-a foster fail ) Through the foster group, I met a local daycare owner who was looking for employees. We immediately hit it off, and through her, I learned even more about dog behavior. It was an excellent part time job and outlet for me. I worked as an educational interpreter working with an elementary school classroom. My passion for sign language and children lead me to pursue my masters in elementary education. I moved back about a month ago to finish my student teaching and start my career as a teacher. I have had the wonderful opportunity to continue part time work here at the Furshire as an outlet from my school days!
Bailey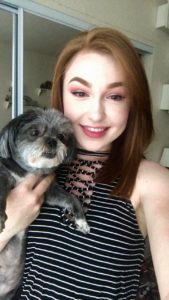 Hi! My name is Bailey Whitmire, and I adore working here at the Furshire! I'm born and raised here in Arizona and am currently the dog mom of a little 11-year-old Shitzu named Lucy. I grew up with two other Boston Terriers named Carlos and Hazel and a cat who lived to be 20 named Lyle. I've always loved my wonderful pets, and it's been a dream of mine to be a part of a company like the Furshire, so finally living it has been a complete blessing. I can't emphasize enough how awesome it is to wake up and have to chance to take care of the furry babies all day with a fantastic team of people. I am also a full-time online student at Western International University for a Bachelors in Information Technology, with the primary interest in computer coding and web design. I'm someone who is incredibly passionate and loves to branch out and try new things in life, and I'm excited to see where this amazing adventure takes me!
Sonja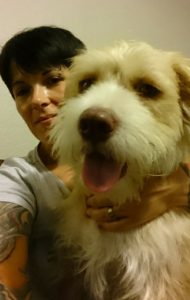 My name is Sonja, and I'm 42 years old.  I am originally from Germany but moved to the US in June 2016 to be with my husband, who I met overseas nine years ago.
I've always been a total dog lover and finally got the chance to work with furry customers after my big move when I became a Dog Bather.
After a while I knew it was time to look for a place where it's all about caring for dogs,  their happiness and wellbeing – I'm just the happiest when the dogs are too  That's when I've joined the Furshire Family, and I love every minute of it!
Every day I can't wait to see the fuzzy faces wishing me a good morning, and I'm doing the best on my part to make sure they will all have a great time with us.
When I'm not working, I like to go on long walks with our dog Baxter who we adopted a year ago or watch a good movie and read books.